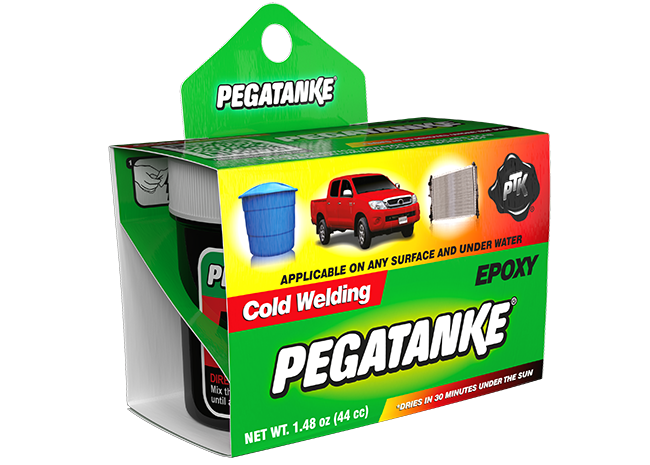 35,27 Oz (1 kg)
PRESENTATIONS
Cold Welding EPOXY
Black epoxy
NET WT. 1.48 oz (44 cc)
It is a high quality epoxy glue, developed to withstand the most demanding physical and chemical conditions. Used in industrial, automotive, naval, electrical and construction repairs; as well as in the simplest home repairs, thanks to its high resistance to extreme temperatures and voltage.
EXCELLENT FOR
Petrol tanks
Water tanks
Radiators
Car repairs

Thoroughly clean the area or surface where the glue will be applied.
Mix components 1 and 2 in equal parts.

Stir the components for 3 minutes until obtaining homogeneous consistency.

Apply the mixture evenly in amounts proportional to the surface to be repaired.

Join the parts to be glued together and secure them if needed for them to remain steady.

Let dry for 30 minutes in the sun or 1 ½ hours in the shade (under roof or in cloudy days). This time may vary according to room temperature. See packaging for more information.
USED IN:
Aluminium • Ceramic • Copper • Fibreglass • Slab • Plastic • Wood • Metal • MDF • Glass