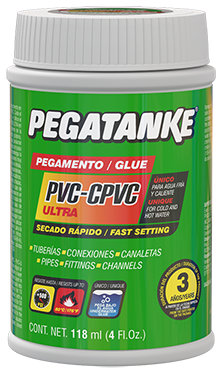 4 Fl. Oz.
8,11 Fl. Oz.
16,06 Fl. Oz.
PRESENTATIONS
GLUE
PVC-CPVC Ultra
4 Fluid Ounces (118 ml )
PEGATANKE® PVC-CPVC Ultra is an adhesive designed to fasten PVC (cold water) and CPVC (hot water) pipes quickly and easily, offering longer life span to the connections of this type of material. It works in dry parts and in those totally submerged in water.
EXCELLENT FOR
PVC / CPVC Pipes
PVC / CPVC connections
PVC / CPVC chutes

Clean the PVC or CPVC pipe or connection, removing the excess material from the edges or surface (chips and/or dust).
Use the applicator to evenly distribute a layer of PVC-CPVC Ultra glue at the outer end of the tube and another layer at the inner end of the connection.

Insert the tube into the connection with rotating movements while the glue is wet, until it fits.

Press the joined parts together for 10 seconds in the pipe.

To use underwater, you need to apply PVC-CPVC Ultra glue on the joint out of the water, immerse the part and insert the tube into the connection with rotating movements.
USED IN:
• PVC Pipe Joints • CPVC Pipe Joints • PVCs Drain Piping Joints • PVC Ventilation Piping • PVCE1 PVC Condouit Piping Joint • This product can be used at home and industrially.