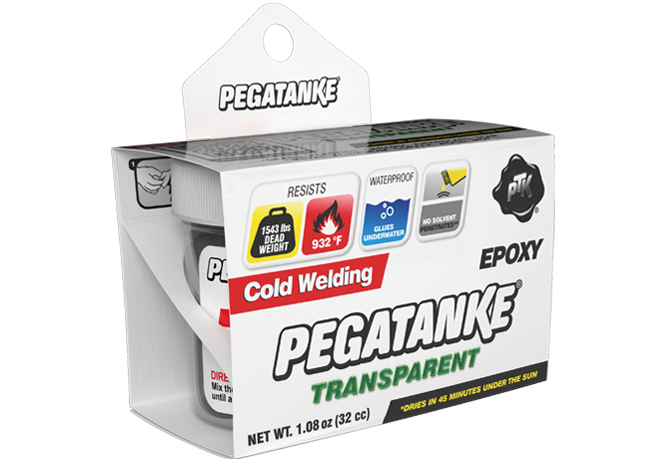 35,27 Oz (1 kg)
PRESENTATIONS
Cold Welding EPOXY
Transparent epoxy
NET WT. 1.08 oz (32 cc)
PEGETANKE® Transparent, is a high quality epoxy adhesive, designed for those jobs where no traces of adhesive use should be left, giving a more esthetic finish. PEGETANKE® Transparent is the only one in its kind with high resistance to tension and high temperatures.
EXCELLENT FOR
Goggles
Headlights
Translucent materials
Glass

Clean the application area.
Mix components 1 and 2 in equal parts.

Stir slowly for 20 to 30 seconds until obtaining uniform consistency.


Steadily join the parts to be glued together.

Let dry for 45 minutes in the sun or 1 hour and 45 minutes in the shade (under roof or in cloudy days).
USED IN:
Aluminium • Ceramic • Copper • Fibreglass • Slab • Plastic • Wood • Metal • MDF • Glass